Sunday morning I set out at 6:13 AM (a bit later than I'd planned) for a ride I'd been wanting to do for some time. I had expected a good climbing challenge and to "put in some miles," but what I got was so much deeper and emotional. The experience simultaneously told the narrative of my cycling journey, reminded me why I ride, and transported me to long-forgotten moments in my past.
The weather was colder than forecast and I was underdressed, but that just meant I'd have to ride a bit harder to keep my temp up. I rode at a modest pace to the base of Old San Marcos as the sun slowly rose. Climbing to the 154 was relatively quick and clinical. I was riding at threshold in an attempt to set a PR and possibly determine my FTP using my fancy new power meter.
Taking it all in
Once I crossed the 154 and onto Painted Cave, I slowed down significantly to recover from my previous hard effort.
Before too long I came across a group of folks who'd clearly made the trip up this mountain road to enjoy the sunrise over the city. I pondered how my solo ascent under my own power compared to their group trek by car resulted in us all experiencing the same natural beauty. I stopped and took a quick photo.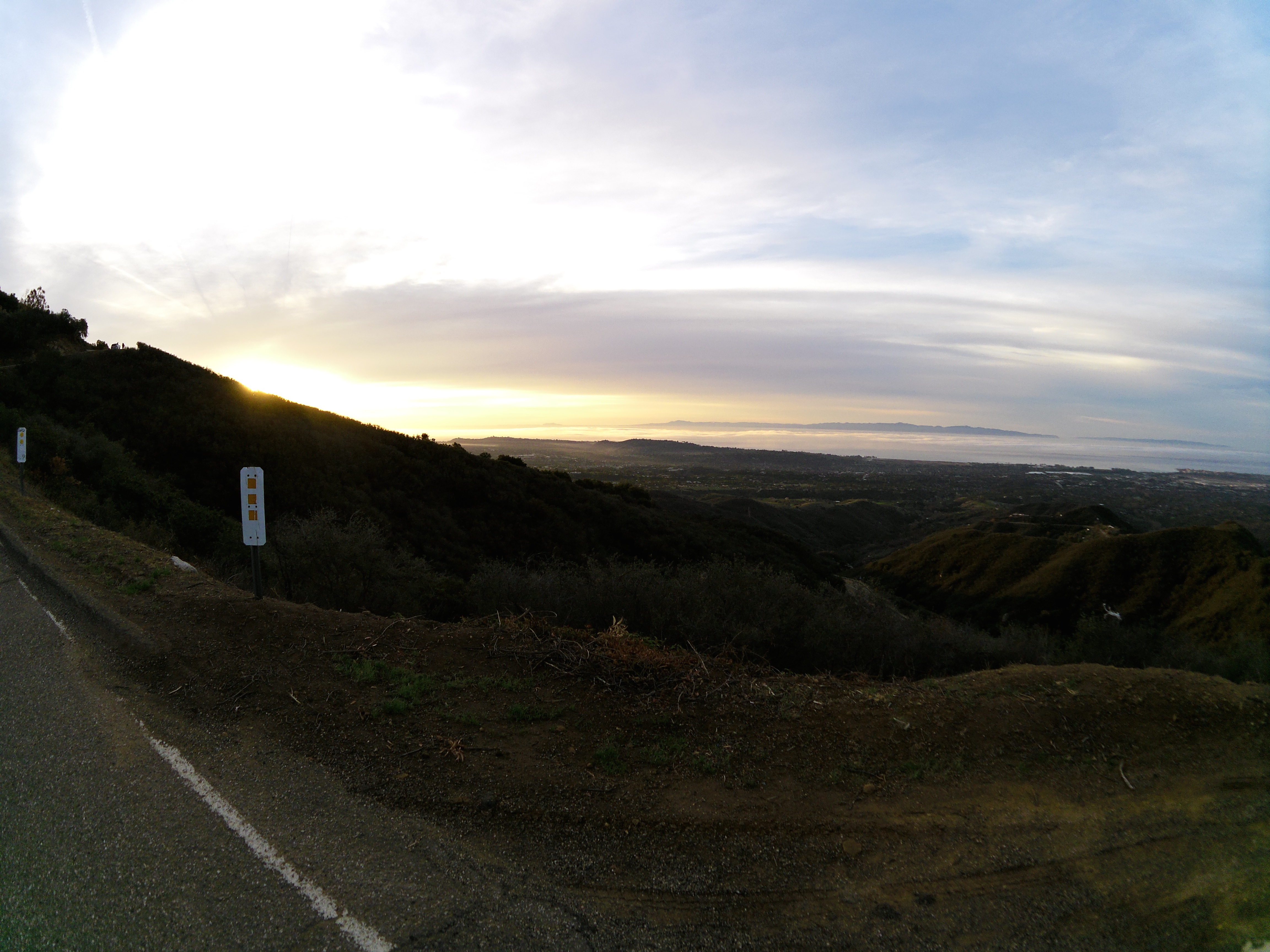 I rode on…
As I approached a turnout that was a couple of twists farther down the road, I was enveloped in an invisible cloud of a pungent and familiar aroma. As I was coming around the next bend, a group of young adults came into view. They were leaning against their car, flicking their lighters, and laughing jovially. I thought about how they, too, were connecting with each other and with this place, again in their own unique way.
I kept riding to the ridge…
Riding into the past
I reached the ridge and descended East Camino Cielo. I was officially on a route I'd never ridden before.
I crossed the 154 onto Stagecoach and descended until I reached a fork in the road. Stopping to consult my GPS map, I realized that there were signs pointing to Cold Springs Tavern, the direction I was headed.
I thought to myself, "So that's where Cold Spring Tavern is! Have I been here before?"
I continued descending on Stagecoach and began to detect the faint scent of an oak campfire. As it grew stronger, and as I began to anticipate coming upon a campsite, suddenly the Cold Spring Tavern came into view. I slowed slightly to take in a deep breath of the aforementioned oak fire smell and to admire the distinctly rustic tavern-in-the-woods.
After dwelling for a moment, I released the brake and continued descending, now with "Alice's Restaurant" mysteriously playing on repeat in my mind.
Though I knew that I'd never traversed this road on my bike, I felt like this place was very familiar, and I started to wonder why. I vaguely remembered my father bringing me into this same Los Padres National Forest to show me the places he frequented as a young adult. On that trip he recalled to me his memories of recovering VW-based vehicles and on-road replacement of drivetrains. His stories were colorful ones of motorcycles, camping, and the consumption of substances both pedestrian and illicit.
My memories of these stories, and the familiarity of my surroundings, caused my mind to drift to a time when, as a child, my family drove up to La Honda near the San Francisco Bay Area to visit a friend of my parents. I had immediately associated the oak fire aroma of Cold Spring Tavern with one that was often present in his home, which was like a cabin in the woods. I remember his apple trees and the screams from him and my family as I nearly rolled his riding mower on the steep grade of his property.
Suddenly I was struck by a pang of acute sadness as I remembered that this family friend had passed away earlier this year. Then, as quickly as that thought arrived, it retreated, and I found myself distracted by a sign pointing out a Historical Civil Engineering landmark, the Cold Springs Canyon Bridge.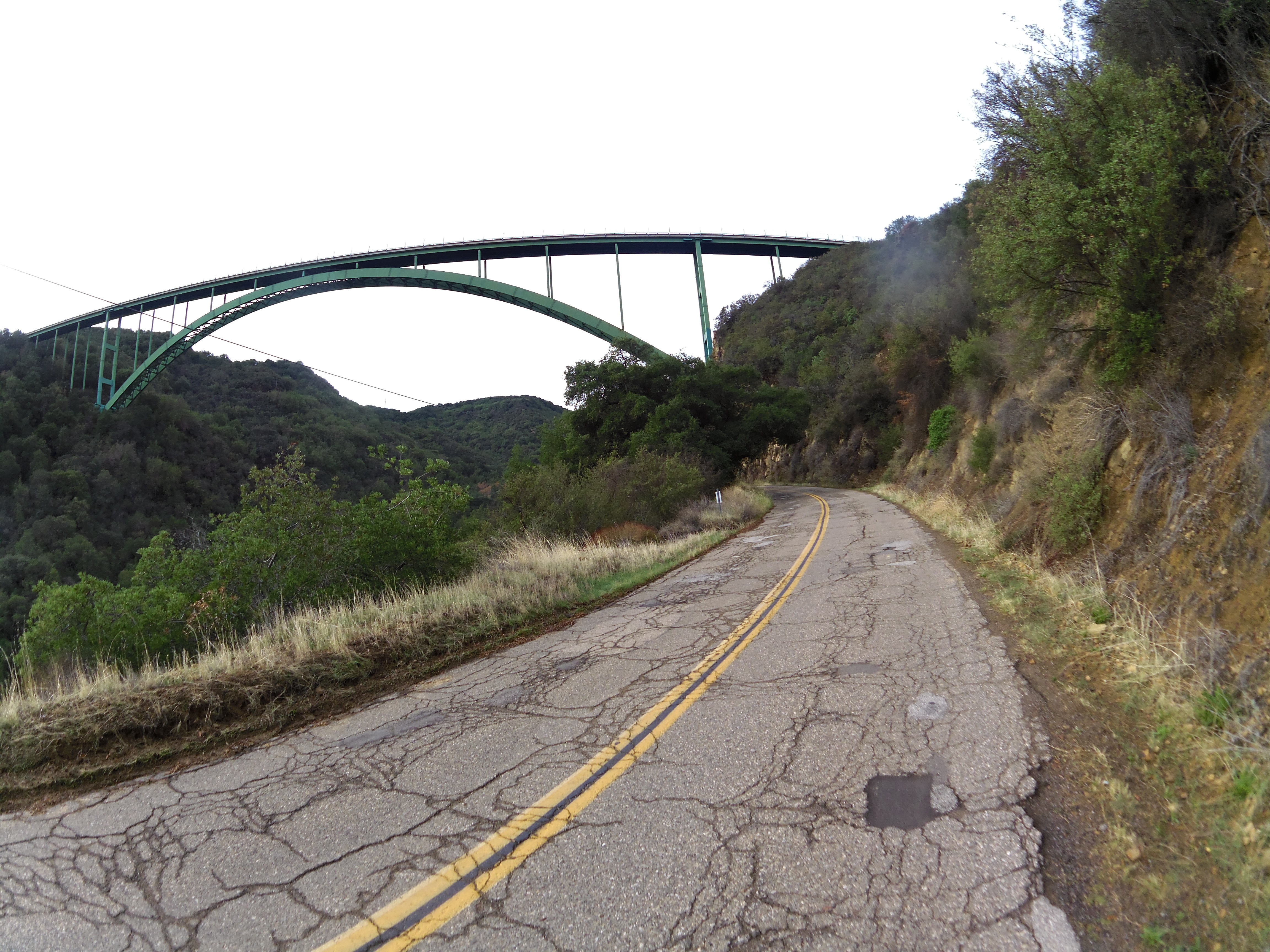 I'd driven over the bridge probably hundreds of times never appreciating it's magnitude. I thought about how before it existed, everyone would have had to drive on the same road that I was using, climbing and descending, adding miles to their route.
Suddenly I was at Paradise Road before I realized that I'd descended 1,700 feet and was consumed not by the demands of controlling my bike, but by my own thoughts and memories.
I stopped at the Paradise Store, which was closed. The place seemed eerily familiar. I suddendly knew that I'd been there before, but couldn't recall when. It was like a tattered and faded sepia-tone photograph your parents show you of your house as it looked before you were born.
I snapped a photo on my cell phone, sent it to the guys I usually ride with on Sunday, and decided to turn around to head home.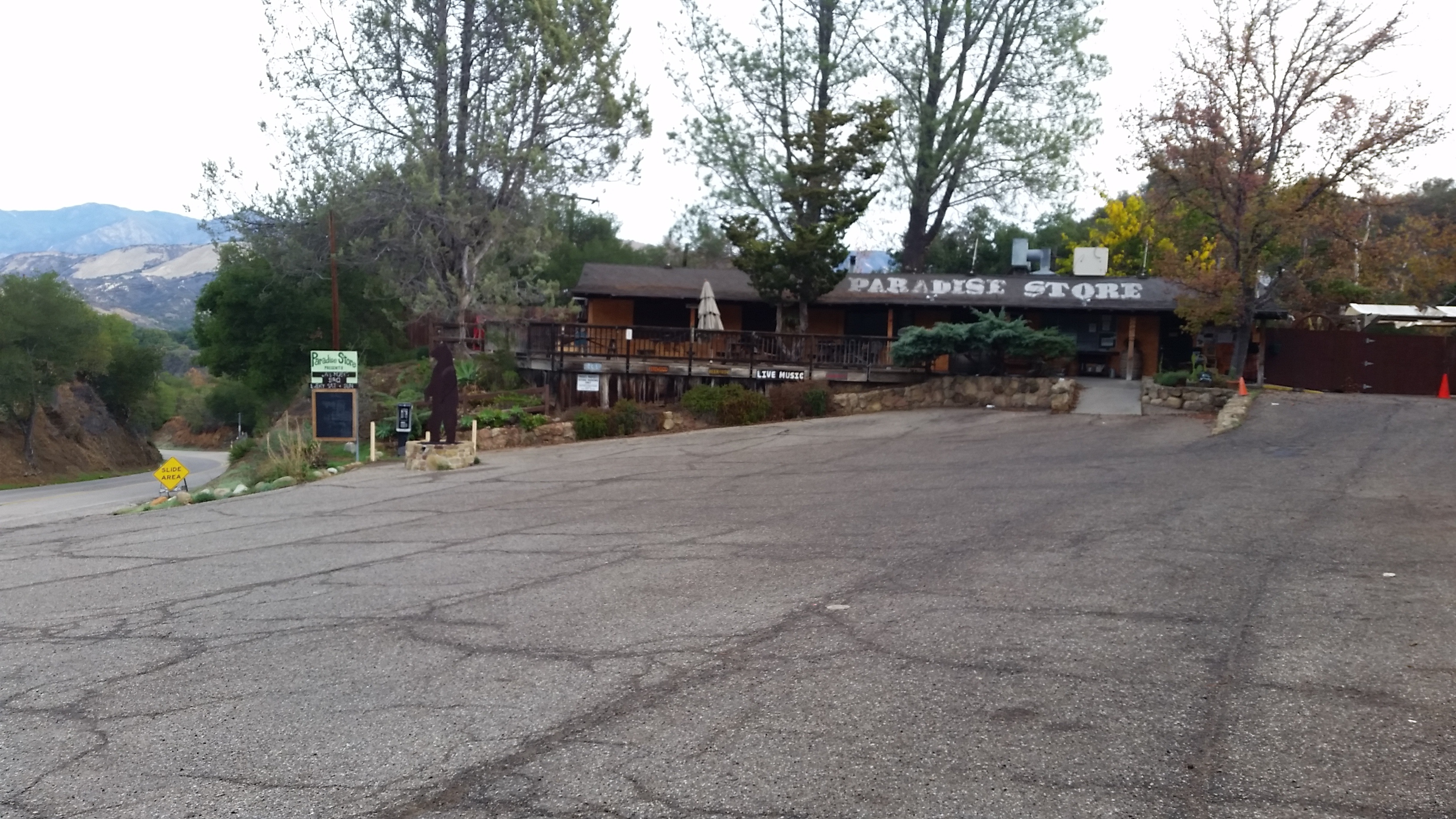 Going back to the future
As I rode back by Cold Spring Tavern I was VERY tempted to stop and share a cup of coffee with the gentlemen sitting around the fire. But I refrained, anxious to get back to my family whom I suddenly realized that I was missing.
Once across the 154 and nearly finished climbing out of the valley, I encountered a man just waking up and stepping out of his camper. We exchanged greetings, and I started to think about how cycling and this ride in particular had shaped my thinking and attitude recently. When I was out riding, I was only worried about my most basic needs like eating and drinking enough and pacing myself. I didn't worry about work, debt, car repairs, bills, anything else.
Although those things always came flooding back to my mind when I stopped riding, they'd somehow lost some of their urgency.
At that moment, I was longing only to get home, have a cup of coffee, take a hot shower, have a hot meal, and enjoy the company of my wife and boys.
I started my descent from the ridge back toward the city. As I got closer I encountered more cars. I found myself concentrating once more on riding, rather than my inner monologue, and realized how lost in thought I actually had been.
My ride that day had begun as a combination training and recreational solo adventure, but quite unexpectedly became a journey into my past, a lesson in appreciating my present reality, and possibly a glimpse into my future.
When I first started riding over a year ago, I did it for the challenge and because it afforded me calories I could use eating and drinking things I wanted. I never expected it to become a way to recharge and to process thoughts and feelings.
I found myself very much looking forward to my next mystical journey into the Los Padres National Forest on my two-wheeled aluminum and carbon time machine.